Production
Develop- Punching - Bending - Austempering - Control
Together with our customers, we create designs until specific components are developed for prototypes. A few days later, experimental prototypes are provided for testing so that they can be further improved and new tests can be made. Only after the conclusion of this process is the tooling begun. Highly skilled professionals perform all of these tasks. Only with the production release does the production start-up begin. Once the product has passed all of these production steps, if requested, we will also carry out routine tests in order to be able to provide the customer with a corresponding production protocol.
Toolshop
In close cooperation with our customers, we develop various designs that are especially tailored to your needs. We further develop these together until specific component shapes for a sample production are created. Shortly afterwards we can provide the customer with prototypes for initial testing. This serves to further improve the construction and achieve an optimum result through new prototypes, if necessary.
Only after the completion of this process is the actual tool built in our own tool shop. Here we can draw on an extensive machining facility to complete all steps internally, which provides our customers with a high degree of flexibility and variability. Thus, we can significantly shorten the time from development to the start of production..
All of these tasks are performed by our highly qualified specialists with years of professional experience.
Only with the customer-approved production release does the series launch begin; in close coordination and to the desired extent.
Punching & Bending
UOur products not only differ in form and function, but also in the variety of different materials we can work with. These include all common iron and non-ferrous metals that can be bent and formed.
Tools are not only elements of process and machining technology, they are an integral part of modern development and application. The skills and creativity of our experienced staff deliver the best results for our customers.
With powerful production facilities – punching and bending machines from leading manufacturers – up to 240 KN pressing force, we process materials between 0.05 mm and 2.0 mm thick with a width from 2 mm up to 60 mm and a part length of up to 220 mm max. For wires, our application range goes up to a maximum diameter of 2.0 mm..
Required follow-up work supported by guided robotics.
In order to guarantee the highest quality precision for our customers, we also use state of the art measuring technology.
The diversity and application possibilities of our products can be found in a variety of industries:
Automotive
Electrical industry
Control and regulation technology
Medical technology
And many more.
This includes almost every industry as our customers!
Bainitic Process
Austempering (properly referred to as the bainitic hardening process) improves the properties of the components in terms of spring characteristics through a refined microstructure, i.e. longer service life and more stable spring strength.
The special feature of this process is the smaller difference between the furnace and the annealing temperature. Thus, a highly refined microstructure is formed in the hardened material and this then causes improvement in elasticity by significantly reducing the percentage of martensite. Applicable for demanding and spring-stable products, such as components for steering mechanisms with a high level of stress duration.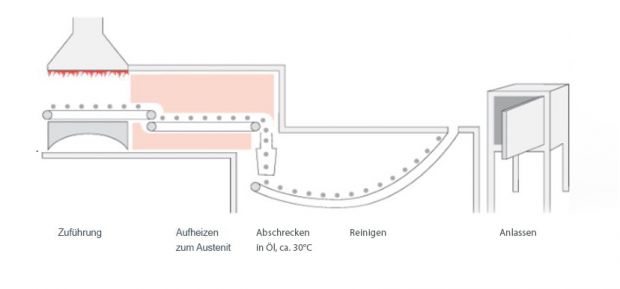 Advantages of Austempering:
significantly lower hardening distortion of the part
longer service life at high values
smooth surface (no oxidation residues)
At OTRA, the bainitic hardening process is continuously optimised in order to always better meet the customer's needs.